Personal Statement Writing Service – Get Your Urgent Help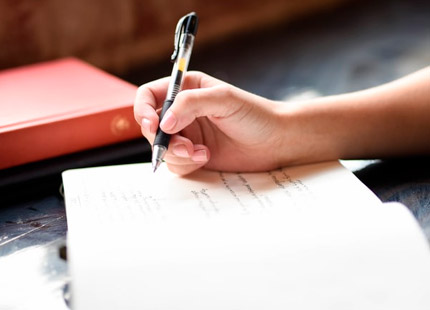 Fill out the form
Specify all paper details needed for us to start working on it
Attach sources that are required to be used in your paper
Proceed to payment
After the payment is completed, our support representatives.
100% Confidentiality
100% Money-Back Guarantee
Professional Writers
Original Content
Plagiarism Checked
Free Revision
24/7 Customer Support
It is safe to say that the application procedure usually causes stress. Students understand that they don't have too many chances to demonstrate their skills and potential. If they make a mistake, they won't be accepted to a higher educational establishment. However, the admission to a higher educational establishment is impossible without writing a personal statement – a paper where they must make personal research of their personality.
It goes without saying, it is really difficult to write a superb paper with a detailed analysis of your achievements. You should show yourself in a positive light, write about your skills, talent, experience, and potential. Therefore, in some cases, the use of personal statement writing services is probably the only solution.
Be More Self-Confident with Our Help on Personal Statement
The key objective of our custom writing service is to help applicants achieve their goals – finally be accepted to a higher educational establishment of their dream. Sometimes, the university admission committee can be too demanding and too strict. Simply put, they wish to be sure that they accept talented students that will live up to their expectations. So if you are currently looking for someone who can help you tackle that challenge, our personal statement writing service is the right tool, which might be a worthy solution!
When you are aware that your assignment is submitted by a professional in this field, you'll become more confident in yourself. You know for sure that you can impress the committee and will definitely spend the best period of your life at this particular higher educational establishment.
What Is a Perfect Personal Statement?
Remember, it is not just a simple essay with a few paragraphs; it is a comprehensive project that shows your values, experience, potential, goals, and attainments. When reading it, the audience will find out everything about who you are and your plans for the future. Therefore, when working on this paper, you must be honest. Stay away from bullshiting because sooner or later the truth will be uncovered.
There's one more thing you need to know about personal statements. This assignment should demonstrate your writing skills. You should properly format your essay and make sure it doesn't contain any mistakes. Remember, you can be a talented student but if your personal statement has errors, your chances to be accepted to this higher educational establishment will be decreased. So, you should be careful while writing or hire a professional to proofread your essay.
Make sure your personal statement is very easy to read. It is an interesting and catching story about who you are. So the listing of achievements is not a good idea. Make sure you submit a fascinating story about yourself.
Before you submit your personal statement, check whether the paper meets the guidelines of your higher educational establishment. So visit the website of your university or college, check the directions and after that, you can immerse yourself in writing. Remember that instructions can be absolutely different.
Why Use Our Personal Statement Writing Services
Some students can do cope with this assignment themselves. However, some applicants have part-time jobs, personal life or some other tasks that don't allow them to focus on writing. Moreover, you can be a talented programmer or web-developer, but your writing skills are far from perfect. Nevertheless, you understand that your grade partially depends on a good personal statement. So you simply can't submit a paper of poor quality. In such a scenario, our personal statements help is at your disposal.
Why should you entrust your paper to our experts? Why should you believe us? Indeed, there are a few reasons why you should do this:
We have a few years of experience in the niche of custom writing. Our professionals can easily cope with absolutely any written assignment including your personal statement.
Here, you'll get professional help with a personal statement. Writers working for our company are true professionals in the area of writing. All of them are English native speakers holding degrees in different fields. So you can feel certain that your order will meet your expectations.
Affordable prices. It goes without saying that students can't overpay. That's why we offer moderate prices (the starting price is $11.50 per page). So if you are currently looking for a trusted company offering affordable prices, our congratulations – you have just found it!
Fast delivery. We understand that help on personal statement should be urgent. Applicants have no time to wait! So, we guarantee that your order will be ready even before the deadline.
24/7 support. If you have additional requirements for your order or you want to ask some questions, feel free to contact us. We are always online to help answer your questions.
How Does Our Service Can Help You?
If you still doubt whether you need to pay for custom writing services, check the main reasons why you should ask us for help:
With personal statement writing help, delivered by our experts, you can relieve the stress associated with your academic load. To put it simply, you won't worry about this assignment. When one of our experts is working on your order, you can immerse yourself in completing some other tasks.
You'll definitely deliver your paper on time.
We can help you submit a professionally written paper deserving the highest grade.
Even if you have a burning deadline, you won't procrastinate. You'll deliver your order on time.
Stop surfing the net with the keywords like "help personal statement" or "find a trusted academic writing agency", we are here and ready to accept your order! Our overriding purpose is to help you pass the application process easier. We guarantee that your personal statement will meet your demands. Moreover, the application committee will definitely enjoy it!
Why everyone trus us
We've helped 55K students with their assignments, and we can help you, too!
Any type of essay
We are an all-encompassing service covering such types of writing assignments as annotated bibliographies, book reports, and research papers. We also provide assignment answers in such subjects as Math, Engineering, Biology, Chemistry, and much more.
Plagiarism check
Your order is invisible for search engines to see, so there is no way to track your order to our website. We never resell or publish our completed orders. Discuss your assignment on a no-name basis and feel safe and secure using our service
Quick delivery
Sometimes you need a paper extremely fast. If that's the case, don't worry, our service features a 3-48 hour turnaround for assignments. You can be sure your order will arrive by a deadline you pick.
Free revisions
If you are unhappy with the final product, we'll work to make it right. Our writers will revise your paper as many times as you need. The amendments to your paper are free of charge if placed within 14-30 days.
Order and get support advice